ABOUT US
Welcome to Marist Sports Palmerston North!
Marist Sports is an amalgam of sporting codes and is a club for all seasons. Currently, we embrace six mainstream codes and two associations.
The club is active throughout the year in its various competitions and events and is widely accepted as a club for all seasons. Marist Sports is administered by a Board of Directors that provides policy and professional guidance required to support each code.
HISTORY
Marist Sports traces its heritage back to 1926 when Cricket then Rugby teams commenced playing. These codes acted independently as did other sports as they formed.

These teams operated under a variety of names such as St Patrick's Rugby Club, St Joseph's Old Girls Netball etc.

In 1976 the formation of The Marist Club (PN)  was Incorporated with a formal constitution to include all the sports playing under Marist. Land was purchased at 17A Pascal St Palmerston north and in 1979 the first section of the Clubrooms was built.

The city Mayor Mr (later Sir) Brian Elwood opened the Club at Easter in 1980. Within 3 years the Club was extended by another third (nowadays The Back Trophy room).

From a humble membership of 300 in 1976, the Club grew over the next 40 years to nearly 3000 (2016).
Marist Crest
What does our Crest represent?
Our Crest has a lot of history around it.
To find out what our crest means, Click or hover over any part of the crest!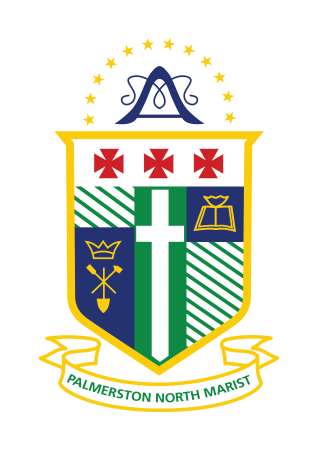 Monogram
This monogram is the official Marist emblem which signifies our affiliation to the Marist Brothers.
The Marist Brothers began teaching in Palmerston North in 1939. This emblem is surrounded by 12 stars representing the 12 apostles.
Maltese Cross
The three red Maltese crosses at the top of the monogram represent the cardinal virtues of Faith, Hope, and Charity.
Green & White
The colours of which represent our club.
Book & Tools
At the top right and lower left is a golden crown over a book and tools (pick, axe, and shovel) on a blue background showing that all work is crowned by glory. The book represents the professional man and the tools the tradesman.
GREEN & GOLD TIMES MAGAZINE
Every year, the club produces a magazine called the Green & Gold Times.
This magazine has been around for 45+ Years.
To find our recent issues, Click the download buttons.